Artists, painters and projects for young and old
For our work at Sonnenhalde, the topic of "art and culture" is an important one: looking at works of art and becoming artistically active oneself keeps our clients mentally as well as physically mobile. And their own artistic engagement with a theme is equally work with their own biography, which finds expression in a self-designed picture.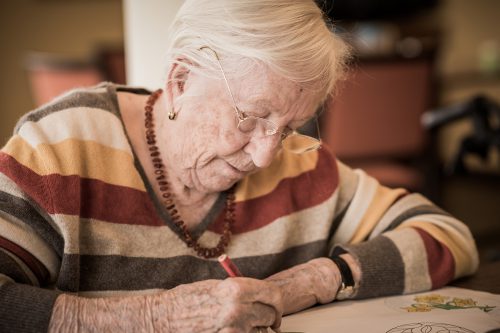 In the rhythm of the year
The topic of everyday culture also plays a big role for us. This begins with small, daily habits and traditions and extends into the rhythm of the year and life. The conscious perception of the seasons and the seasonal festivals is an integral part of our work. Advent and Christmas play a special role in this, and we try to give our residents a wonderful holiday with Advent celebrations, biscuit baking, Christmas services and many other activities.
Exhibitions and workshops
In addition, we always invite artists to exhibit their pictures in our houses and to talk about them with our residents in the context of vernissages and workshops. This gives the artists a broad resonance space for their works and our clients a discussion space and the opportunity to deal with their own lives and biographies through art.
Art projects "Young & Old
A model project of the Sonnenhalde
The goals of this free art project series of generations is to awaken, experience and express the human connection of young and old through visual and performing arts. This highly successful series of art projects at Servicehaus Sonnenhalde integrates residents of the facilities as well as resident artists, greatly enhances the sensory capacity of all participants and opens up new possibilities for our clients to express themselves and move inner images.
All this has a positive effect on the vitality and quality of life of the residents of our homes.
Keltenstraße 10

72829 Engstingen

service(at)servicehaus-sonnenhalde.de