A new home for your old age
If you choose to live in a Sonnenhalde home, you should be comfortable. It is our claim that you feel comfortable with us! Visit us and get to know a completely new concept of care for the elderly.
Living together in the Servicehaus Sonnenhalde
We place great emphasis on community: together we embark on a journey through old age. Our shared experience path (GEW) structures your day according to your very own interests, needs and possibilities.
Active into a new phase of life
In doing so, we want to support you and encourage you to actively participate in our leisure activities: Excursions, cultural events, exercise together, games afternoons and much more. There is a lot to do at the Sonnenhalde!
Your own space in a shared house
You may furnish and design your room in our house according to your own wishes, because it is your new "home"! Bring what you want to take with you.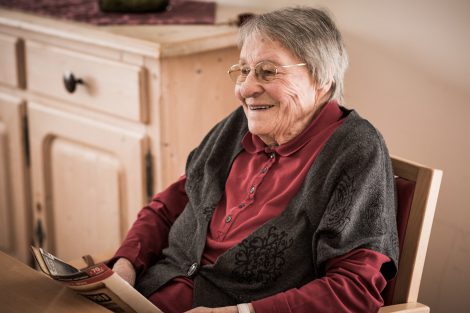 Sheltered dementia area
We care for people with dementia in a protected area. In this way, we cater to the special needs and requirements of people with dementia. The specially equipped rooms offer plenty of space for individual care.
Our sheltered dementia area is available in Singen, Stockach, Tengen, Trochtelfingen & Westerheim.
On the way together
There are many questions about long-term care: Our advisory team will be happy to inform you about our homes and the possibility of long-term care in the Sonnenhalde Service House at any time!
The Full inpatient care / long-term care we offer in our houses in Engstingen, Singen, Stockach, Tengen, Trochtelfingen and Westerheim .
Advisory team:
07129 / 93 79-0
Keltenstraße 10

72829 Engstingen

service(at)servicehaus-sonnenhalde.de