Kommen Sie als Gast zu uns in die Kurzzeitpflege und fühlen Sie sich wie zu Hause! Unsere Kurzzeitpflege bietet Ihnen die Möglichkeit, unsere Arbeit und eines unserer Häuser kennenzulernen. Ob Sie einen Unfall hatten oder Ihre Angehörigen Sie nicht betreuen können: In allen Fällen freuen wir uns, Sie als Gast in der Sonnenhalde begrüßen zu dürfen.
Arrive and feel good
We want you to feel comfortable in our houses. Therefore, we integrate you into all the offers of our houses where you would like to participate: From baking a cake together to playing games in the afternoon: Be a part of our house - also as a guest - and take an active part in the varied everyday life at Sonnenhalde!
Professional care: from person to person
A detailed admission interview with you and/or your relatives and our nursing staff is the beginning of every stay. Professional support with regard to educational and nursing issues is just as important to us as the personal encounter from person to person. A detailed final discussion gives you security for your return to your own home.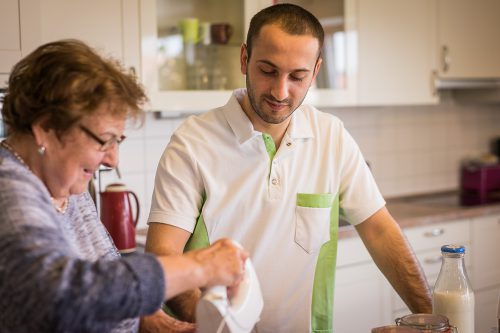 Are you interested in short-term care at the Sonnenhalde Service House? Make an appointment with a Sonnenhalde advisor.
Our team of advisors will be happy to answer your questions competently. You can book a short-term care stay at the following Servicehaus Sonnenhalde locations:
Engstingen, Trochtelfingen, Westerheim, Blumberg, Tengen, Singen & Stockach.
You can reach our head office at:
Phone 07129-9379-0 or send us an email: service(at)servicehaus-sonnenhalde.de
Sheltered dementia area
We care for people with dementia in a protected area. In this way, we cater to the special needs and requirements of people with dementia. The specially equipped rooms offer plenty of space for individual care.
Our protected dementia area is available at the following locations: Singen, Stockach, Tengen, Trochtelfingen & Westerheim
Be our guest!
Get to know our house and our work, feel at home with us and share the day with us. We look forward to welcoming you as a guest in our short-term care. Call us and we will quickly find a suitable place for you!
Keltenstraße 10

72829 Engstingen

service(at)servicehaus-sonnenhalde.de